Crown Plaza Hotel-

Riverwalk
111 Pecan Street East
Great location right on the
Riverwalk
. One of the main things we wanted to do was layout by the pool on Saturday and get some sun. I'm glad to report that we were able to accomplish this, complete with poolside
service. The best thing about Crown Plaza is the Sleep Advantage Program. In Houston the program is focused on the beds; they are amazing. The SA beds
weren
't that great, but they had a sleep CD for you to put in that featured
breathing exercises
and
relaxation tips
. Don't worry, it also had a few
soothing songs
for you to listen to. Apparently this CD works, as the rest of my party fell asleep instantly. I think I was a bit self conscious so I just popped a few more Dramamine and waited for them to kick in.
Blanco
Café
419 N Saint Marys Street

This little Mexican diner had an awesome breakfast for us. I got a bean and cheese taco and was so impressed with their homemade flour tortillas! AND they had
fideo
on the menu, which I'
ve
never seen before, so I got that. It was
OK
, definitely not like my mom's, but still good. Good home style Mexican food and a great price.
El Mercado-Market Square
514 W. Commerce
After brunch we trekked on over to the Market Square to do a little window shopping. I love painted Mexican pottery, especially the blue stuff with the white lilies, and there was tons there! We
didn
't have enough time this trip to eat at the infamous Mi
Tierra
Restaurant & Bakery, but it's located right in the middle of the market. You should definitely check it out if you want to listening to some mariachis while you dine.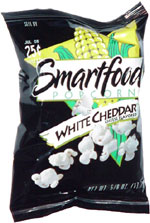 Lucky's Food Mart
119 E. Commerce Street
We needed to stopped by this historic landmark for necessary snacks. Basically the only reason this stop is noteworthy is I because I got to try Smart Food White Cheddar Popcorn, which
Sirena
had mentioned in one of her posts. SO GOOD! I'
ve
got to find it in Waco.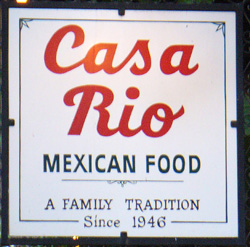 Casa

Rio
430 E. Commerce Street
Sirena
suggested this eatery for our dinner. It was
delish
. The wait was a little long but the weather was perfect for talking over margaritas. Everything here, including the drinks, was so reasonably priced. I think we were all a bit shocked! We each went for the select two combination plate (I opted for the cheese enchilada and a
tostado
) and all loved what we ordered. The salsa was also
delish
! This was by far our best meal of the weekend, and we joked about going there again the next day.
Swig Martini Bar
111 W Crockett Street
After dinner we stepped into this chic little martini bar for a drink. Kelli and Shea had been dying to experience a
Flirtini
,
Sirena
went for a chocolate martini, and I went for the Blue Moon Martini, which has
Absolut
Citron and a splash of Blue Curacao, and was the only drink accompanied by a poem:
"There is something about a martini,
A tingle remarkably pleasant;
A yellow, a mellow Martini,
I wish I had one at present.
There is something about a Martini.
Ere the dining and dancing begin,
And to tell you the truth,
It is not the vermouth—
I think that perhaps it's the gin." —
Ogden Nash

Not very specific to the Blue Moon, but whatever. Swig had such a great vibe and live jazz! Side note: The song playing when were there is called "Four". I don't know why my friends were surprised by my jazz knowledge! Swig also has a huge humidor. I love the smell of cigars!
Riverwalk
We walked and walked and walked along the river both days that we were there. The weather was so perfect during both the day and night—we couldn't have been luckier! Best of all, this San Antonio gem is free to
stroll
!
Alamo
300 Alamo Plaza
Included on our Must-Do list for the weekend (eat tons of Mexican food, lay out, drink margaritas) was to take a picture in front of the Alamo! Again free, but the picture is priceless and a must for any Texan (it's in the same category of a pic in a field of Bluebonnets).
Emily Morgan Hotel
705 E. Houston Street
Across from the Alamo is the Emily Morgan. The building sort of resembles the Cast Iron
Building
in New York City. I had heard about this hotel from my mother who loves all True Hollywood Stories: I'm Haunted or I'm a Natural Disaster. Don't get her started on Hurricane Rita. Anyway, she frequents San Antonio twice a year and has done some research on this place. Supposedly it's haunted. It's the site were tons of soldiers died during the war. It was also hospital at one time, and then an apartment building before being turned into a hotel. People have reported hearing nurses call out hospital codes, getting whiffs of antiseptics, or hearing loud thuds. My mother personally stayed in the hotel and says she's heard thuds in the hallway. I love her. Anyway, we had to step inside and call her to get the story. Picture of haunted hotel: done.
*Margaritas
I'll be honest, I was a little disappointed in the margaritas we sampled. I'm sure there are some tasty ones out there and I guess I'll have to go back and do a little more sampling ;) All I can say is nothing beats a good old
Ninfarita
.